Swedish Champion
Kingsleah Pride Of The Ritz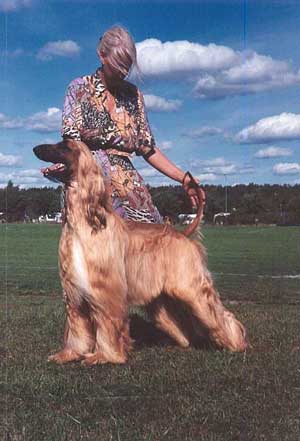 Alias: Sam
Sex: Dog
After: AM CH Pahlavi Puttin'on The Ritz
Under: Swedish Champion Kingsleah Smoke Gets In Your Eyes
Born: 1993-10-26
Breeder: Gunilla Holmgren, Kennel Kingsleah
Owner: Gunilla Holmgren
*Deceased*


Like father like son ... judge Frank Sabella, USA, gave Sam the last CAC and the Swedish championtitle.
Sam is the son of the legendary Taco, American Ch Pahlavi Puttin´ On The Ritz, the top Speciality Winner of all-time and the no 1 all time sire in America.
Taco has produced over 81 American champions. 17 Canadian champions and over 16 foreign champions.
Taco was the no 1 sire in Canada 1989 and 1994.
Taco won the National Speciality three times.
Taco was known as "the world´s most famous Afghan hound" with a number of 51 Speciality wins.
We have limited frozen semen from Sam avaible for sale.
Hips X-rayed A-A (excellent)
Pictures

Pedigree
AM CH Pahlavi Puttin'on The Ritz
Shirkden Shazam
USA & CAN CH Zuvenda Razcym
Shirkden's Libra Of Ashan
Alarickhan's Jehada Pahlavi
Mecca's Falstaff
GBCH Khalife Cricket V A Larickhan
Swedish Champion Kingsleah Smoke Gets In Your Eyes
Swedish Champion Khandhu Acrobatic Ace
SBIS AUST Ch Pierhelo Cointreau
Multi SBIS/BIS & AUST Ch Raushan Copa Cabana
Multi SBIS Aust, International & Nordic Ch, Norweigan Winner-88 Khandhu Smoke Screen
Multi SBIS/BIS & AUST Ch Khandhu Laser Litefoot
Universe Zizanie