Swedish, Danish & International Champion
Al Khabara Gracious Me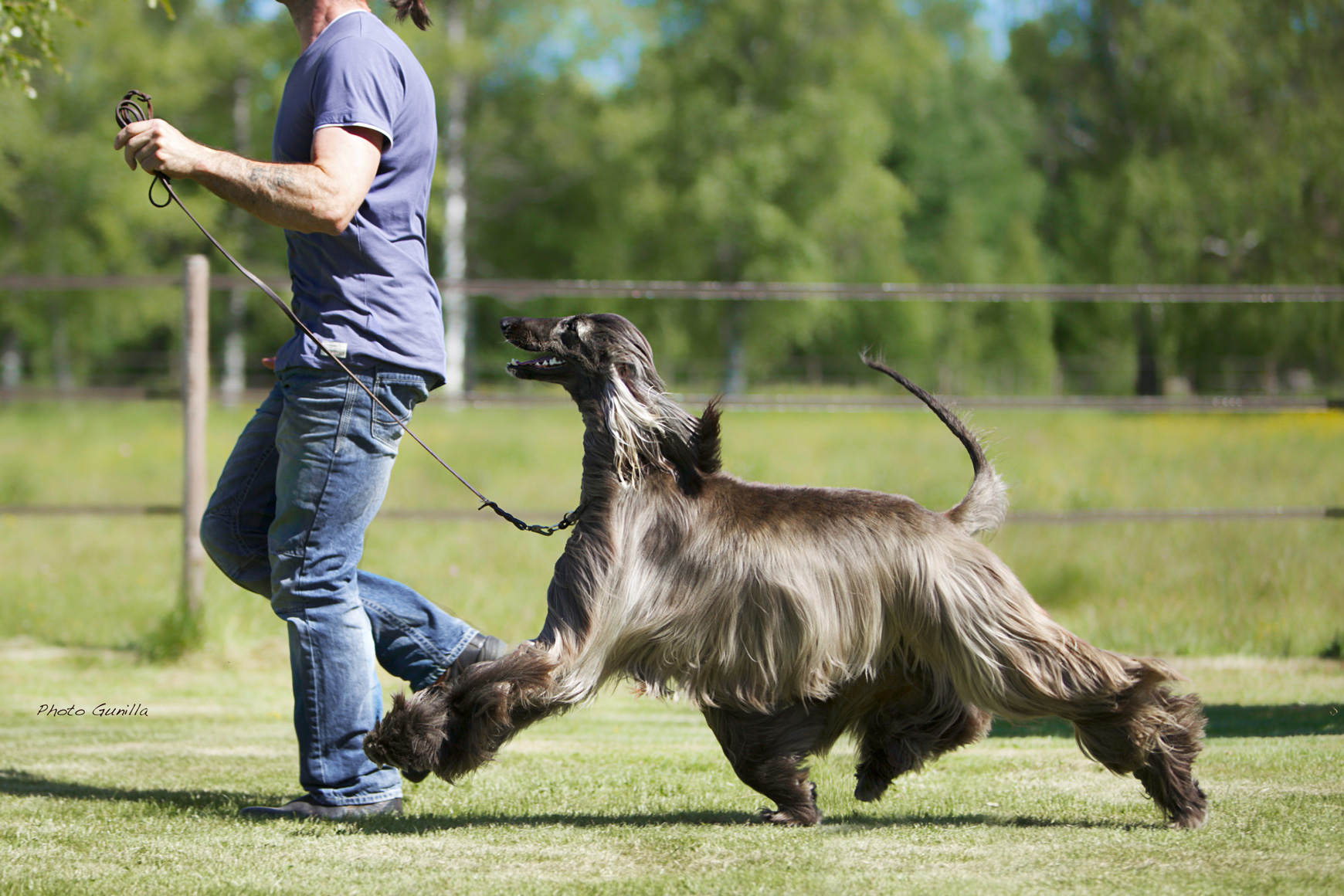 Alias: Rosie
Sex: Bitch
After: FIN, S & INT CH, NORD W09 Agha Djari´s Urban Cowboy
Under: Est JCH, Est, Belarus, LT, LV, BALT, Russian & International Champion, Alpe Adria Winner-06, Alpe Adria JW-06, LT CLW-07, Lithuanian Club Winner-2008 Kingsleah Amazing Grace
Born: 2011-01-11
Breeder: Monica and Alex Kullarand, Al Khabara, Estonia
Owner: Gunilla Holmgren, Kingsleah

BOB Puppy on her first show in Estonia.
Winner of Open Class at the Afghan Hound Specialty, Tammsvik (Skokloster) 2013 under Kelly de Meijer (NL).
CAC at the Sighthound Specialty, Svenstavik, under Lena St�lhandske.
CAC at the Kennel Club International, Svenstavik, under Diane Anderson.
CAC and Swedish Championtitle at the Kennel Club National, Askersund under Kurt Nilsson.
We are very proud of Rosie. She finished her title in grand style within one week! On top of that she is also half way to her International title.
Rosie finished her International title by winning CAC, CACIB & BOS in Vejen, Denmark under judge Mrs Berri Beare, Ireland. Also Danish Champion and qualified to Crufts 2016.
Pictures










Pedigree
FIN, S & INT CH, NORD W09 Agha Djari´s Urban Cowboy
GER, VDH, IT & INT CH, JAS SG05 LDSSG WESER-EMS 05 Xenos Comment
IT, SWISS & INT CH, San Marino JCH Xenos Marnero
IT CH Xenos Cosmedin
BELG W03, DT CH, JGD WINNER 03, LUX JCH Khafka´s Hot Spice
French, Spanish,Portuguese, American & Caribe, Gran Brazilian and World Winner 2004 Khafka´s Song Sung Blue
Aust CH Jacosta Hot N`Spicey
Est JCH, Est, Belarus, LT, LV, BALT, Russian & International Champion, Alpe Adria Winner-06, Alpe Adria JW-06, LT CLW-07, Lithuanian Club Winner-2008 Kingsleah Amazing Grace
Portuges, Norwegian, Swedish, Danish, Nordic & Int Ch, JWorldWinner 2001 Storm-Warning De Golddragon
French, Spanish, Portuguese, Gibraltar, Luxemburg, Italian, International, Mexican, Las Americas and Caribian, Canadian & USA Ch, World Winner 1999 License To Thrill De Tchekana
Jahrog I Think You Got My Number
Japonica's Black Lotus
Am, Swedish, Norwegian, Slov & Int Ch Raffica's Smokin' Gun
Swedish Champion Kingsleah Stardust