Est JCH, Est, Belarus, LT, LV, BALT, Russian & International Champion, Alpe Adria Winner-06, Alpe Adria JW-06, LT CLW-07, Lithuanian Club Winner-2008
Kingsleah Amazing Grace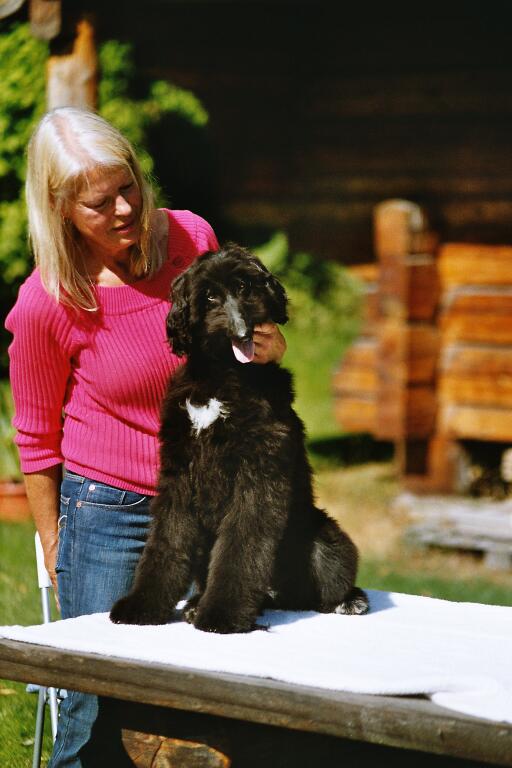 Alias: Grace
Sex: Bitch
After: Portuges, Norwegian, Swedish, Danish, Nordic & Int Ch, JWorldWinner 2001 Storm-Warning De Golddragon
Under: Japonica's Black Lotus
Born: 2005-04-14
Breeder: Gunilla Holmgren
Owner: Monica and Alex Kullarand, Al Khabara, Estonia
*Deceased*


Grace was exported to Monica Kullarand in Estonia end of 2005 and she had a great start on her showcareer.
From Juniorclass she achieved the Alpe Adria Winner-06, Alpe Adria JW-06 in Croatia.
Grace won her class and was BOS Intermediate at the prestigious Specialty (Skokloster) in Mariefred 2006 under judge Helen Gibson, Karakush, Australia.
Grace finished with glory her Championtitle in Sillamae, Estonia, 20 April 2007, one week after her 2nd birthday.
CAC, Belarus Ch, CACIB & BOS in Minsk July 14th under judge Mr Ichiro Ishikawa, Japan.
CAC, LT Ch, CACIB & BOS August 4th.
Grace finished her International title 1st of August 2008.
Pictures













Pedigree
Portuges, Norwegian, Swedish, Danish, Nordic & Int Ch, JWorldWinner 2001 Storm-Warning De Golddragon
French, Spanish, Portuguese, Gibraltar, Luxemburg, Italian, International, Mexican, Las Americas and Caribian, Canadian & USA Ch, World Winner 1999 License To Thrill De Tchekana
USA Ch Shekinah Justice Prevails
French Ch E'Licence To Kill De Tchekana
Jahrog I Think You Got My Number
Spanish Ch Afgahdan's Buffalo Bill
Ch Rastamans Positive Vibrations
Japonica's Black Lotus
Am, Swedish, Norwegian, Slov & Int Ch Raffica's Smokin' Gun
USA Ch Seistan's Makin' A Killin' Jc
USA Ch Raffica Smoke Gets N' Yr Eyes
Swedish Champion Kingsleah Stardust
International & Nordic Ch Gold'n Copper Blue Print
Swedish Champion Kingsleah Footprints Of Smokey