Swedish Champion
Kingsleah Ain´t No Angel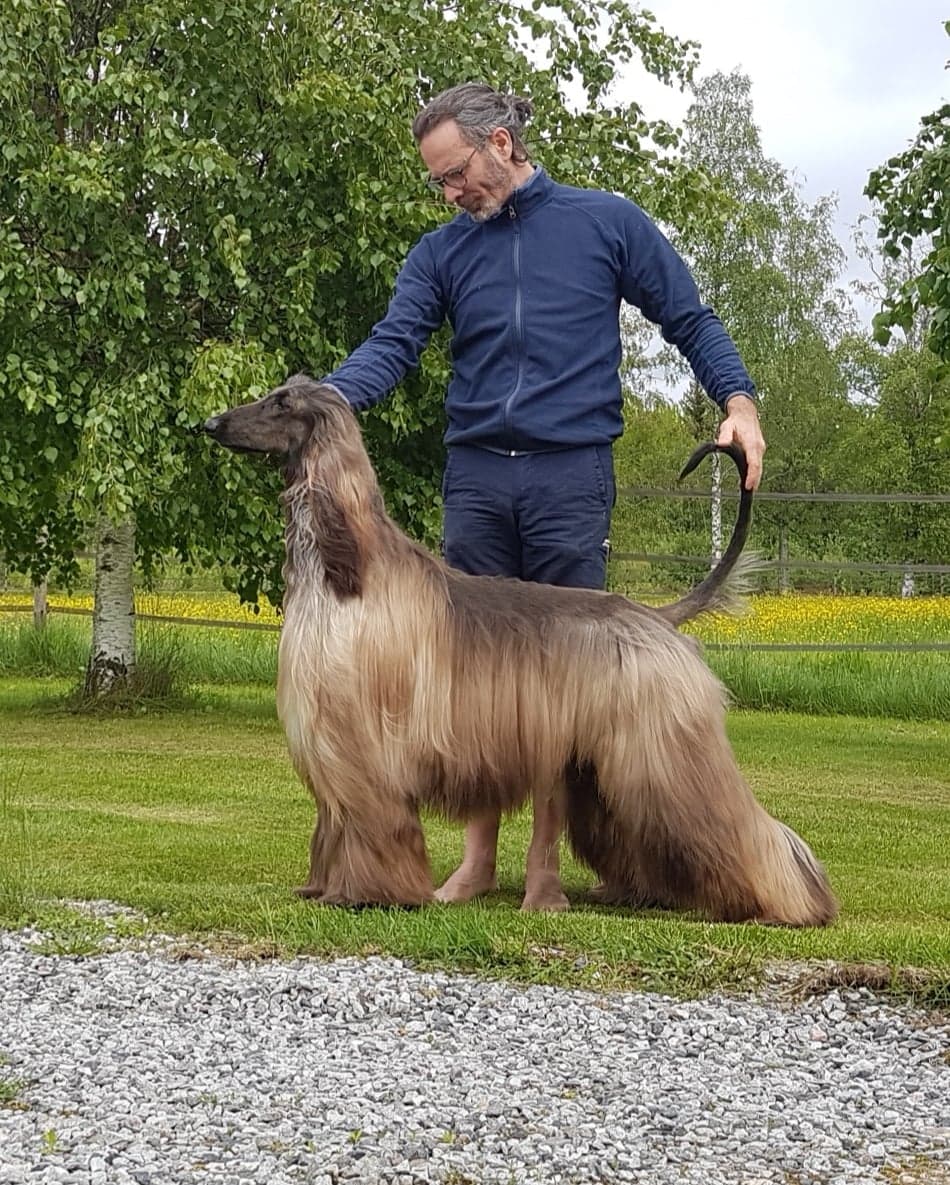 Alias: Zappa
Sex: Dog
After: Swedish, Danish & Finnish Champion Kingsleah Angel Dust
Under: Swedish, Danish & International Champion Al Khabara Gracious Me
Born: 2016-07-22
Breeder: Gunilla Holmgren, Kennel Kingsleah
Owner: Kingsleah
*Deceased*


#5 MALE IN SWEDEN 2019
Zappa wins his first CAC and Best Male 2 at Leksand NDS 2019, under Karin Hedberg (SE).
Zappa wins his second CAC and Best Male 3 at Askersund NDS 2019 under Kitty Sjong (DK).
Zappa wins his third CAC and Swedish Championtitle, Best Male 2 at Eskilstuna NDS 2019 under Maria Lönnhammar (SE).
So proud of Zappa, being shown very sparsely during a couple of months.
Pictures










Pedigree
Swedish, Danish & Finnish Champion Kingsleah Angel Dust
Swedish, Danish, Norwegian, Nordic & INT CH Xciting Rattle N´Hum
Swedish Champion Oshanameh´s Is The Pope Catholic
Swedish & Estonian Champion Xciting Miss Devil in Dior
Polish, Swed, Lith, Latvia, Estonia, Baltic, Romania, Gr Romania, Serbia, Ukraina & INT Champion Agha Djari´s Black Eyed Pea
World Winner 2011, World Winner 2009, Multi SBIS New Zealand, Swedish, Danish, Norwegian, Nordic & International Champion Star´T Cutting Trax of Jhanzi
World Winner 2008, World Winner 2009, INT, German, VDH, LUX, USA, FIN, Swed, Dan, Norw, Nordic, French, Belgium, Austrian & Estonian Champion Agha Djari´s Reflections of Xenos
Swedish, Danish & International Champion Al Khabara Gracious Me
FIN, S & INT CH, NORD W09 Agha Djari´s Urban Cowboy
GER, VDH, IT & INT CH, JAS SG05 LDSSG WESER-EMS 05 Xenos Comment
BELG W03, DT CH, JGD WINNER 03, LUX JCH Khafka´s Hot Spice
Est JCH, Est, Belarus, LT, LV, BALT, Russian & International Champion, Alpe Adria Winner-06, Alpe Adria JW-06, LT CLW-07, Lithuanian Club Winner-2008 Kingsleah Amazing Grace
Portuges, Norwegian, Swedish, Danish, Nordic & Int Ch, JWorldWinner 2001 Storm-Warning De Golddragon
Japonica's Black Lotus