American Bronze GRAND Ch, American, Swedish, Danish, Finnish, Norwegian, Nordic & International (CIB) Champion
Kingsleah Blue Heart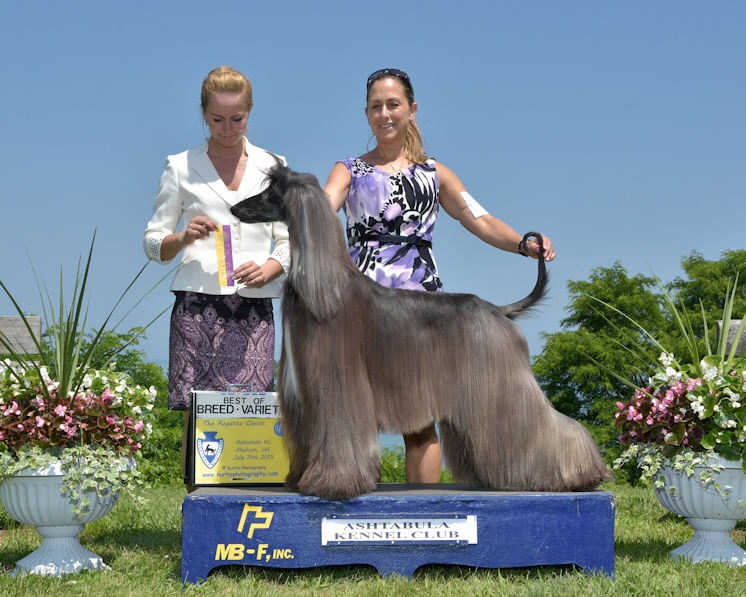 Alias: Trulsa
Sex: Bitch
After: World Winner 2011, World Winner 2009, Multi SBIS New Zealand, Swedish, Danish, Norwegian, Nordic & International Champion Star´T Cutting Trax of Jhanzi
Under: Golddragon Fly So High
Born: 2009-08-04
Breeder: Gunilla Holmgren, Kennel Kingsleah
Owner: Kingsleah

First time out Trulsa won SBIS Junior at the prestigious Skokloster Summer Show (National) in 2010 under judge Paul Britza (Taejon) Australia.
Second time out, one year later at Skokloster (National) 2011, back to back BOB Youngster and SBIS Youngster under judge Peter Belmont and Nicklas Eriksson.
Third time out she won the R-CAC and Runner Up Best Bitch under Barbara Ruth Smith.
CAC, R-CACIB and Runner Up Best Bitch at the Swedish Winner 2011 show in Norrköping under judge Eugene Blake, USA.
R-CAC and Best Bitch 4 at Skokloster Sigthound Specialty 2012, under judge Heinz Anschouber, Austria.
Winner of the Open Class at Skokloster (National) 2012, under Bo Bengtson.
CAC, R-CACIB and Runner Up Best Bitch at the Swedish Kennelclub International show in Högbo 2012 under judge Sumiko Ikeda, Japan.
CAC, CACIB, Best Bitch and Best Opposite at the Danish kk International show in Frederica, February 2013 under judge Lars Adeheimer (SE).
CAC & CHAMP at Swedish Kennel Club Int show in Strängnäs 9th of March 2013, under judge Jan Törnblom (SE). By winning the CAC she gained the Swedish and Danish championtitles.
Winner of the Championclass, Best Bitch & BOS at Skokloster (Tammsvik) National 2013 under judge Kelly de Meijer. Winner of Best Movement from both sexes!
CACIB, Best Bitch 2 at the Swedish Kennel Club in Eskilstuna under judge Roberto Posa (Switzerland), August 17, 2013.
CAC, CACIB, Best Bitch & BOB Åland, Finland, September 28, 2013 under judge Markku Mähänen (FI).
CACIB, Best Bitch & BOS Herning, Denmark, November 2, 2013 under Göran Bodegård (SE).
R-CACIB, Best Bitch 2 Herning, Denmark, November 3, 2013 under Hans Lehtinen (FIN).
CACIB, Best Bitch 2, Helsinki, Finland, December 1, 2013.
CACIB, Best Bitch & BOS Strängnäs, Sweden, March 7, 2014 under Knut Blutecher (NOR).
Trulsa finished her International Championtitle (CIB). Thank you all judges!
One day in mid September 2014 Trulsa left Sweden for New York. She started this exciting journey by winning at Specialties including two Specialty Majors.
We thank co-owner Sharon Ferraro for this possibility and Teri Tevlin for great handling of our princess Trulsa!
Wish you all the best in America! Go Team Trulsa!
Trulsa continues to win at the prestigious National 2014 in Texas, Winners Bitch & Best of Winners under judges Jane Sheppard and David Frei. October 2014
Trulsa wins another major and WB & BOS and finished her American Championtitle first weekend in November 2014. Trulsa finished her title in only four show weekends!
Trulsa continue to win multi BOB and finished her American GRAND Champion title on December 11th 2014 by winning another Major and BOS on the first day at the Eukanuba Challenge in Orlando Florida, USA, under judge Andrew Brace (UK).
Trulsa has in less than one year won 6 SBIS in America and was the 2nd Top Bitch! We are very proud of her.
Back home, first time out, Trulsa wins BOB with CAC, CACIB and Norwegian Championtitle under György Tesics, Kristiansand, Norway, March 2016.
Then it was time for Trulsa to become a mother. With several top winning kids around the world.
Pictures




















































































Pedigree
World Winner 2011, World Winner 2009, Multi SBIS New Zealand, Swedish, Danish, Norwegian, Nordic & International Champion Star´T Cutting Trax of Jhanzi
Grand New Zealand & Grand Australian CH Aviva T Cutting Edge
Grand Australian Champion Seistan´s Heart T´Beat
SBIS Multi BIS Australian CH Aviva Venezia
New Zealand Champion Lali Thuk Star of Jhanzi
World Champion Kingsleah Blue Star
New Zealand CH Summer Skies Of Jhanzi
Golddragon Fly So High
Spanish Champion Golddragon Taylor Smart
French, Spanish, Portuguese, Gibraltar, Luxemburg, Italian, International, Mexican, Las Americas and Caribian, Canadian & USA Ch, World Winner 1999 License To Thrill De Tchekana
Jahrog I Think You Got My Number
Spanish Champion Thais du Menuel Galopin
Ch Exxos Guess My Secret
Ch Marie France du Menuel Galopin