Swedish & Danish Champion, Danish Winner 2019
Kingsleah Wild At Heart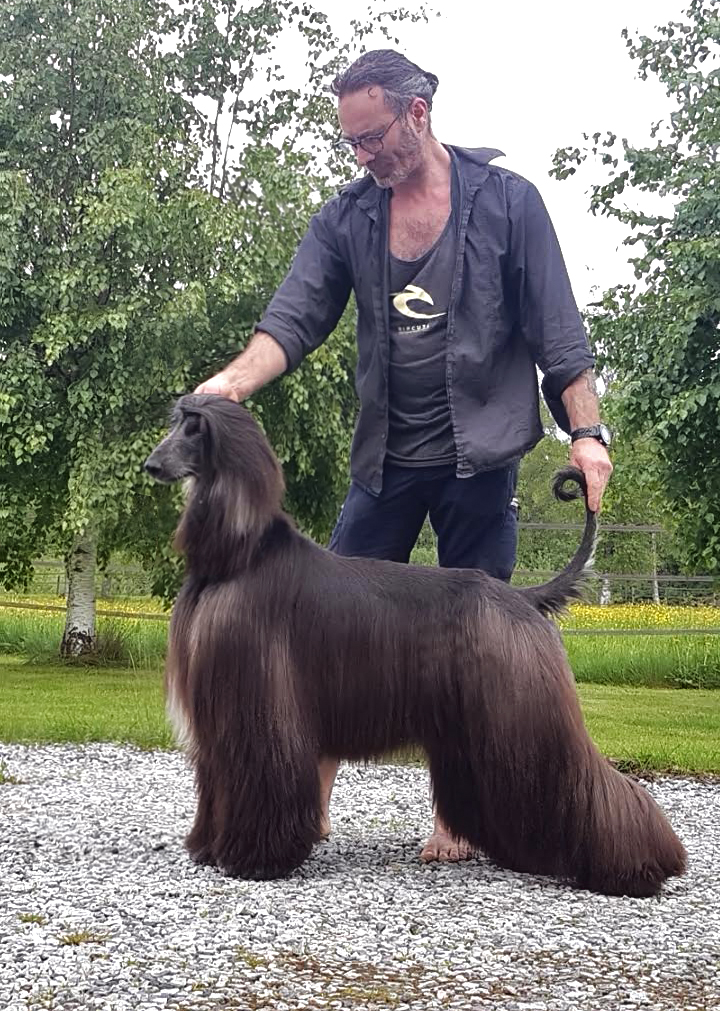 Alias: Wilda
Sex: Bitch
After: Swedish & Danish Champion Kingsleah Blueberry Breeze
Under: American Bronze GRAND Ch, American, Swedish, Danish, Finnish, Norwegian, Nordic & International (CIB) Champion Kingsleah Blue Heart
Born: 2017-03-17
Breeder: Gunilla Holmgren, Kennel Kingsleah
Owner: Gunilla Holmgren, Kingsleah

TOP YOUNGSTER 2018 & TOP BITCH 2 in Sweden 2018 from Juniorclass!
We are so proud of Wilda´s achievement.
* SBOS and CAC at the prestigious Summer Specialty Skokloster in Sweden, over lots of champions, under breed specialist Dr Göran Bodegård (SWE).
* SBIS 2 Junior at Skokloster!
* Best Junior Bitch and Best Bitch 4 at Skokloster Specialty under Beatrix Maerki Casanova.
* Junior SBOS to the BOB of the day & Junior Class Winner in Donaueshingen Specialty, Germany, under breed specialist Jerry Klein, USA. From a huge junior bitch class of 16 entries! 2xJCAC´s.
* BOB & BOS wins at Kennel Club shows with totally 9 CAC´s from 11 shows.
Wilda became a Swedish Champion first time out after 2 years old. She won the CAC and BOS over many champions at the Kennel Club show in Västerås, April 2019.
BOS both days in Tvååker under Timothy Finney, Ireland and Rony Doedijns, NL!
BOB & Nordic CAC in Västerås under Marge Callthorpe, USA.
BOS in Askersund under Kitty Sjong, DK.
Specialty BOB in Munka-Ljungby 2019 under Ingrid Krah-Heiermann, Germany.
BEST MOVER and Winner of Championclass, Afghan Hound Specialty under Dr Jerry Klein, USA.
BOB, CACIB & Group 2 in Växjö 2019, under Berri Beari, Ireland.
CACIB in Herning, Saturday, under José Homem De Mello, Portugal.
CAC, CACIB, BOS, Danish Champion and DANISH WINNER 2019, Herning, Sunday, under Jarmo Vuorinen, Finland.
TOP BITCH 2019, not yet 3 years old.
WILDA has won 15 CACs, several BOB and BOS, been awarded BEST MOVEMENT by breed specialists, one CACIB shy of her International title, so she´s definitely following her mothers footsteps!
Pictures



























Pedigree
Swedish & Danish Champion Kingsleah Blueberry Breeze
INT & Nordic, Danish, Croatian, Slovak & USA CH, SE V-12 Khaos d´Aram
Swedish, Danish, Finnish, Nordic CH Jangels Cadiblack
Swedish CH, SE LCCH Khaos Tomorrow Never Dies
Kingsleah Harmonia
World Winner 2011, World Winner 2009, Multi SBIS New Zealand, Swedish, Danish, Norwegian, Nordic & International Champion Star´T Cutting Trax of Jhanzi
Risis du Domaine des Crepinettes
American Bronze GRAND Ch, American, Swedish, Danish, Finnish, Norwegian, Nordic & International (CIB) Champion Kingsleah Blue Heart
World Winner 2011, World Winner 2009, Multi SBIS New Zealand, Swedish, Danish, Norwegian, Nordic & International Champion Star´T Cutting Trax of Jhanzi
Grand New Zealand & Grand Australian CH Aviva T Cutting Edge
New Zealand Champion Lali Thuk Star of Jhanzi
Golddragon Fly So High
Spanish Champion Golddragon Taylor Smart
Spanish Champion Thais du Menuel Galopin