Moldavian Champion
Kingsleah Aurora Blue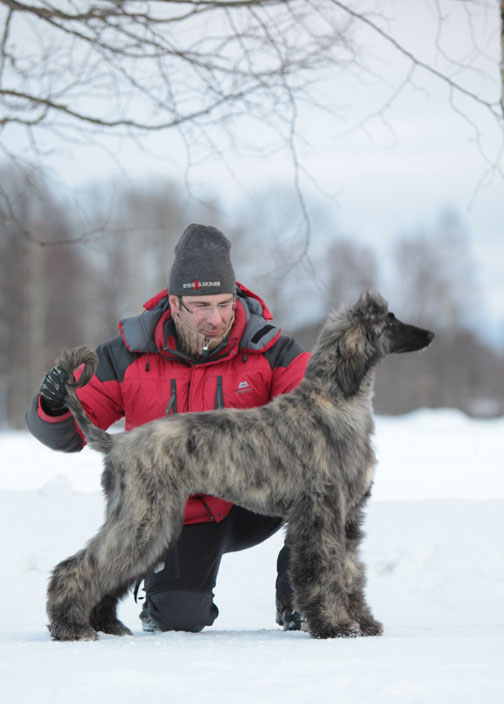 Alias: Alice
Sex: Bitch
After: World Winner 2011, World Winner 2009, Multi SBIS New Zealand, Swedish, Danish, Norwegian, Nordic & International Champion Star´T Cutting Trax of Jhanzi
Under: Golddragon Fly So High
Born: 2009-08-04
Breeder: Gunilla Holmgren, Kennel Kingsleah
Owner: Blandine van de Plas & D Allain, France (Maybeline)

Alice has gone to live with her new family in France.
We wish them the very best with this lovely girl.
Alice won R-CACIB from Intermediate class at the Specialty in France under breeder/judge Phillippe Gallardo (Khafka).
Alice won 2 x CAC´s in Chisinau the 12 and 13 of March 2011 and is now Moldavian Champion.
Pictures






Pedigree
World Winner 2011, World Winner 2009, Multi SBIS New Zealand, Swedish, Danish, Norwegian, Nordic & International Champion Star´T Cutting Trax of Jhanzi
Grand New Zealand & Grand Australian CH Aviva T Cutting Edge
Grand Australian Champion Seistan´s Heart T´Beat
SBIS Multi BIS Australian CH Aviva Venezia
New Zealand Champion Lali Thuk Star of Jhanzi
World Champion Kingsleah Blue Star
New Zealand CH Summer Skies Of Jhanzi
Golddragon Fly So High
Spanish Champion Golddragon Taylor Smart
French, Spanish, Portuguese, Gibraltar, Luxemburg, Italian, International, Mexican, Las Americas and Caribian, Canadian & USA Ch, World Winner 1999 License To Thrill De Tchekana
Jahrog I Think You Got My Number
Spanish Champion Thais du Menuel Galopin
Ch Exxos Guess My Secret
Ch Marie France du Menuel Galopin