Triumph-Show Anastasia Magic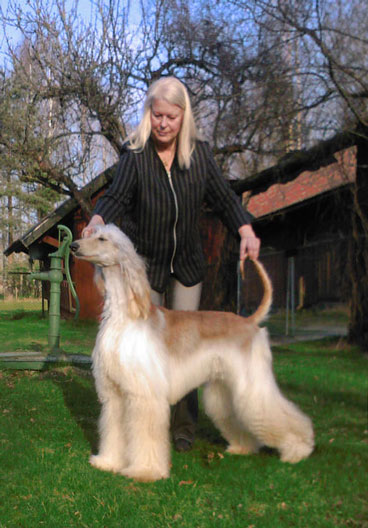 Alias: Nastja
Sex: Bitch
After: Est, Latv, Lith & Baltic JCH, ESTJW-05, LVJ-05 & BALTJW-05, Est, Lat, Lit, Balt, Russian, Belarus & International CH, Lithuanian Winner-07 Kingsleah Arctic Star
Under: EST JCH, EST VCH, LV, BLR & RUS CH, LT JWINNER-04 Funtime´s Up-To-Date Obsession
Born: 2006-07-25
Breeder: Jelena Haustova, Estonia
Owner: Monika Emanuelsson
*Deceased*


Nastja is the only daughter in Babu´s (Multi Ch Kingsleah Arctic Star) first sired and very successful litter in Estonia and Nastja is a granddaughter to Svinto (World Ch Kingsleah Blue Star).
We are very pleased to have this very pretty dominogirl here with us at Kingsleah. She will be of great value in our breeding program.
Nastja got her first litter by the handsome Italian gentleman "Tuareg" SBIS/BIS Int, Italian, Norwegian & Swedish Ch Maidum Blue Tuareg.
Nastja is retired and lives with Monika in Västerås.
Pictures





Pedigree
Est, Latv, Lith & Baltic JCH, ESTJW-05, LVJ-05 & BALTJW-05, Est, Lat, Lit, Balt, Russian, Belarus & International CH, Lithuanian Winner-07 Kingsleah Arctic Star
World Champion Kingsleah Blue Star
International & Nordic Ch Gold'n Copper Blue Print
Swedish Champion Kingsleah Footprints Of Smokey
Pretty-Woman De Darjeeling
Am, Swedish, Norwegian, Slov & Int Ch Raffica's Smokin' Gun
East Of Eden De Tchekana
EST JCH, EST VCH, LV, BLR & RUS CH, LT JWINNER-04 Funtime´s Up-To-Date Obsession
EST V, LT, LV, BALT, PL, RUS, BALT FIN, BLR & INT CH, BALT W-99 & -00 Funtime´s Obsession For Fun
BLR, FIN, RUS, EST V CH, BALTIC WINNER-98 Mario Boss du Menuel Galopin
EST V, RUS, BLR & LT CH Just For Fun de Tchekana
EST V, LT, LV, RUS, BALT CH Funtime´s Paloma Picasso
IT, FR & INT CH, WW-96, EURW-97, EURW-98 Sanallah´s Gerome
EST V, RUS, BLR & LT CH Just For Fun de Tchekana