Top Afghan 1994, Swedish Champion
Kingsleah Smoke Signal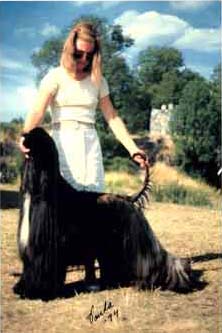 Alias: Rasmus
Sex: Dog
After: Swedish Champion Khandhu Acrobatic Ace
Under: Multi SBIS Aust, International & Nordic Ch, Norweigan Winner-88 Khandhu Smoke Screen
Born: 1989-07-28
Breeder: Gunilla Holmgren, Kingsleah
Owner: Tommy Hallonquist, Sweden
*Deceased*


Multi SBIS Champion Top Afghan 1994 in Sweden.
Rasmus was not only a beautiful showdog, he had such a wonderful character and almost never needed a leash outside the showring. He was proud, arrogant and obediant.
He sired only 3 litters but you can find him in the pedigree behind some of the topwinning afghans of today.
Pictures


Pedigree
Swedish Champion Khandhu Acrobatic Ace
SBIS AUST Ch Pierhelo Cointreau
Multi SBIS AUST CH Kabiks Limelite Of Aries
Pierhelo Mopet Popette
Multi SBIS/BIS & AUST Ch Raushan Copa Cabana
Multi SBIS/BIS & AUST Ch Khandhu Laser Litefoot
AUCH Raushan Wanton Affair
Multi SBIS Aust, International & Nordic Ch, Norweigan Winner-88 Khandhu Smoke Screen
Multi SBIS/BIS & AUST Ch Khandhu Laser Litefoot
AUST Ch Alaqadar De Fauves
AUCH Raushan Talitha Cumi
Universe Zizanie
Azravi Little Bigman
Universe Angel Onight