Multi SBIS Aust, International & Nordic Ch, Norweigan Winner-88
Khandhu Smoke Screen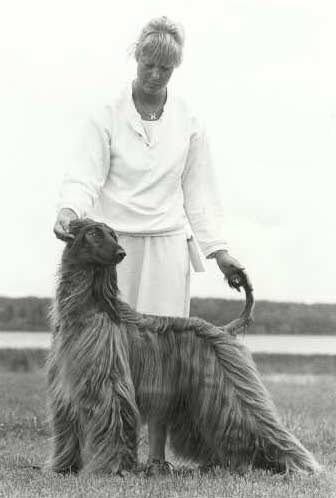 Alias: Smokey
Sex: Bitch
After: Multi SBIS/BIS & AUST Ch Khandhu Laser Litefoot
Under: Universe Zizanie
Born: 1985-09-13
Breeder: Paul & Pauline Hewitt, Kennel Khandhu, Australia
Owner: Gunilla Holmgren, Kennel Kingsleah
*Deceased*


Top Afghan, Top Sighthound, Top Bitch All Breeds 1988 in Sweden.
Smokey was an outstanding multichampionproducer with her undefeated Progeny Groups throughout the years.
Smokey came from Australia to Sweden when she was two years and she was a loving member of the Kingsleah family until she was 14.
Smokey left us the same day her grandson Svinto started his long trip down under to New Zealand and Australia in 1999.
Smokey was The Queen of Afghans in all the ways!
Pictures



Pedigree
Multi SBIS/BIS & AUST Ch Khandhu Laser Litefoot
AUST Ch Alaqadar De Fauves
AUST Ch Coastwind Holyman
Tahkira Ta Moroc
AUCH Raushan Talitha Cumi
AUCH Raushan Jamil
Furbari Water Flower
Universe Zizanie
Azravi Little Bigman
AUST Ch Rahzmundah Mr Merica
Calahorra The Sandune
Universe Angel Onight
AUCH Ghurian Bahri Baroka
Universe Opal De Zion