Swedish, Finnish, Norwegian, Danish, Nordic, Estonian & International Champion
Kingsleah Hot Shot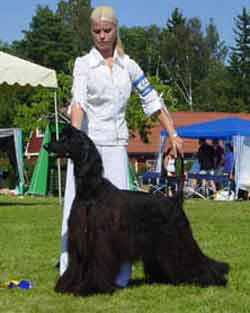 Alias: Molly
Sex: Bitch
After: Am, Swedish, Norwegian, Slov & Int Ch Raffica's Smokin' Gun
Under: Swedish Champion Kingsleah Starlight
Born: 2000-04-27
Breeder: Gunilla Holmgren, Kennel Kingsleah
Owner: Katja Huovinen, Järfälla
*Deceased*


Molly is a Multi BOB Winner and Specialty CAC-winner in Finland and Sweden.
Specialty CAC-winner & Best Bitch-2 Skokloster/Tammsvik 2002
under specialist judge Cinzia Aymaretti Camia, Gran Pamir afghans, Italy.
SBIS Veteran & Best Bitch R at the prestigious Skokloster/Västerås Specialty (The National) 2008 under specialist judge Jaime Ganoza, Dega afghans, Peru. Total entry more than 140 afghans!
Pictures






Pedigree
Am, Swedish, Norwegian, Slov & Int Ch Raffica's Smokin' Gun
USA Ch Seistan's Makin' A Killin' Jc
USA Ch Jorogz' Heart Breaker
Atavi Seradrift
USA Ch Raffica Smoke Gets N' Yr Eyes
Yucatan Gran Maniere Stevmar
Raffica's State Of The Heart
Swedish Champion Kingsleah Starlight
International & Nordic Ch Gold'n Copper Blue Print
SBIS/BIS USA & CAN Ch Qamari´s Rainbow Rider
Swedish & Norwegian Ch Xenopho Midnight Blue
Swedish Champion Kingsleah Footprints Of Smokey
Swedish Champion Khandhu Acrobatic Ace
Multi SBIS Aust, International & Nordic Ch, Norweigan Winner-88 Khandhu Smoke Screen