Swed, Norw & Danish Ch, NordicWinner-00
Kingsleah Dancing Queen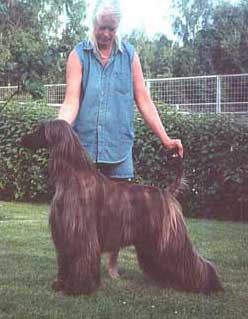 Alias: Hallon
Sex: Bitch
After: International & Nordic Ch Gold'n Copper Blue Print
Under: Swedish Champion Kingsleah Smoke Gets In Your Eyes
Born: 1995-08-14
Breeder: Gunilla Holmgren, Kennel Kingsleah
Owner: Gunilla Holmgren
*Deceased*


Hallon gained her Swedish Championtitle in 2 weeks! She was a multiple BOB-winner & Group Winner, and Specialty RUBIS-winner.
Hallon won the RCAC and Best Bitch 4 at the World Show in Milan, Italy 2000, under judge Norman Huidobro Corbett (Huilaco), Spain.
Hallon produced only one litter of 3 puppies.
Her daughter Stella won BOB & SBIS-2 at the Spanish National MONOGRAFICA in 2005 from Juniorclass! In 2006 Stella went all the way to SBIS only 2 1/2 years old.
Her other daughter Mimmi as well as Stella are both Multi champion producers.
Pictures

Pedigree
International & Nordic Ch Gold'n Copper Blue Print
SBIS/BIS USA & CAN Ch Qamari´s Rainbow Rider
USA Ch Jeherans Aqcent Of Qamari
USA CH Qamari's Charming Alibi
Swedish & Norwegian Ch Xenopho Midnight Blue
AUST CH Kelzarki Blue Spruce
AUST CH Xenopho San Francisco
Swedish Champion Kingsleah Smoke Gets In Your Eyes
Swedish Champion Khandhu Acrobatic Ace
SBIS AUST Ch Pierhelo Cointreau
Multi SBIS/BIS & AUST Ch Raushan Copa Cabana
Multi SBIS Aust, International & Nordic Ch, Norweigan Winner-88 Khandhu Smoke Screen
Multi SBIS/BIS & AUST Ch Khandhu Laser Litefoot
Universe Zizanie