Polish, Swed, Lith, Latvia, Estonia, Baltic, Romania, Gr Romania, Serbia, Ukraina & INT Champion
Agha Djari´s Black Eyed Pea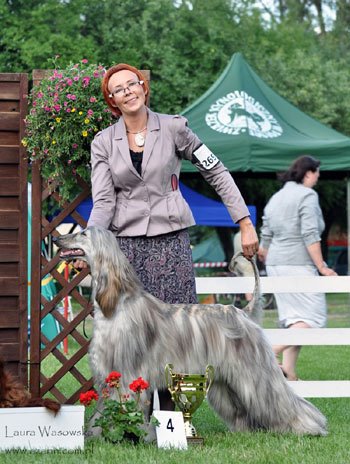 Alias: Rysia
Sex: Bitch
After: World Winner 2011, World Winner 2009, Multi SBIS New Zealand, Swedish, Danish, Norwegian, Nordic & International Champion Star´T Cutting Trax of Jhanzi
Under: World Winner 2008, World Winner 2009, INT, German, VDH, LUX, USA, FIN, Swed, Dan, Norw, Nordic, French, Belgium, Austrian & Estonian Champion Agha Djari´s Reflections of Xenos
Breeder: Stefan Boijeck, Germany
Owner: Anna Skowronska-Kociecka, Poland

We are fortuned to be offered to lease for a litter, this very beautiful bitch Rysia. The puppies will be born with us and in the name of Kingsleah, on May 1st.
Rysia comes from the very famous litter sired by Kid Sox x Reeva, both parents are double World Winners!
Thank you so much our dear friend Anna Skowronska-Kociecka for your generosity!
Pictures












Pedigree
World Winner 2011, World Winner 2009, Multi SBIS New Zealand, Swedish, Danish, Norwegian, Nordic & International Champion Star´T Cutting Trax of Jhanzi
Grand New Zealand & Grand Australian CH Aviva T Cutting Edge
Grand Australian Champion Seistan´s Heart T´Beat
SBIS Multi BIS Australian CH Aviva Venezia
New Zealand Champion Lali Thuk Star of Jhanzi
World Champion Kingsleah Blue Star
New Zealand CH Summer Skies Of Jhanzi
World Winner 2008, World Winner 2009, INT, German, VDH, LUX, USA, FIN, Swed, Dan, Norw, Nordic, French, Belgium, Austrian & Estonian Champion Agha Djari´s Reflections of Xenos
GER, VDH, IT & INT CH, JAS SG05 LDSSG WESER-EMS 05 Xenos Comment
IT, SWISS & INT CH, San Marino JCH Xenos Marnero
IT CH Xenos Cosmedin
INT, FR, LUX, GER CH Agha Djari´s Forever In My Heart
USA Ch Gazon Do What You Say
German CH Agha Djari´s Cigourney