German & VDH (DWZRV) JCH, Danish JCH, Polish, Hungarian, Danish, Swedish, German CH & CIB Champion, Polish Winner 2016
Kingsleah My Story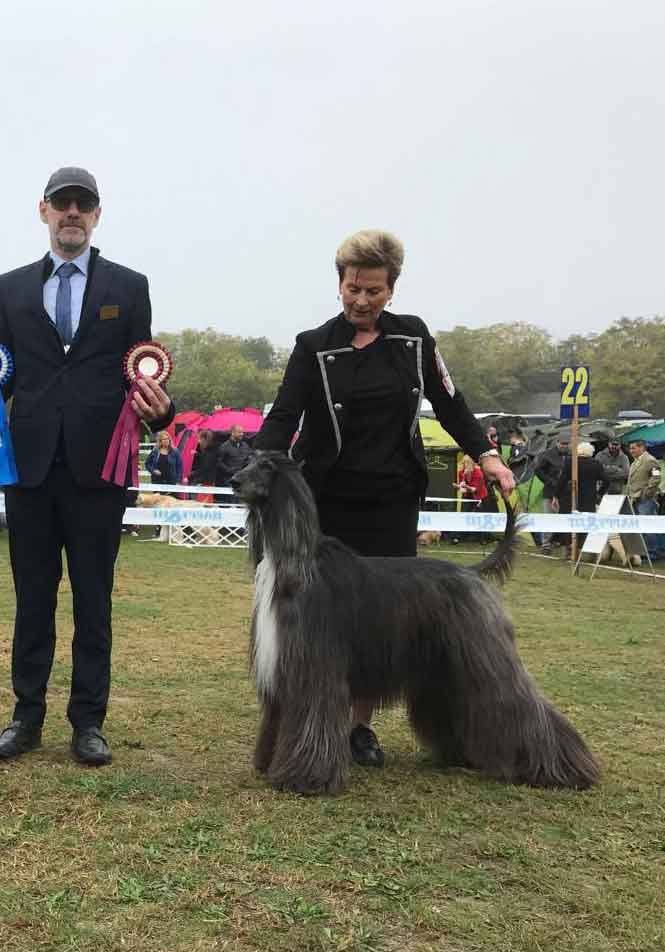 Alias: Saga
Sex: Bitch
After: World Champion Kingsleah Blue Star
Under: Swedish, Norwegian, Danish, Finnish, Nordic, Latvian, Baltic, Polish, German & VDH, Czech, International Champion Kingsleah Star of Asia
Born: 2013-02-27
Breeder: Gunilla Holmgren, Kennel Kingsleah
Owner: Monica Fermell-Lundin, Halmstad
*Deceased*


First time out at shows Saga wins back to back V1 VDH CAC, JUG. SIEGER LANGERWISCH, in Langerwisch, Germany!
Second time out Saga finished German & VDH (DWZRV) Junior Champion titles, in Berlin, Germany, at the age of 13 months.
Saga is a Multi CAC, CACIB, BOB & SBIS winner in Europe.
Saga gained the Polish, Hungarian, Danish and Swedish Championtitles with great style at just 2 years of age.
Saga finished the International Championtitle CIB in Denmark, August 2015.
Saga finished the German Championtitle in Rostock, October 2016.
Saga wins the Polish Winner 2016-title in Poznan, end of October 2016.
Saga wins BOB in Hungary, October 2017.
Pictures













Pedigree
World Champion Kingsleah Blue Star
International & Nordic Ch Gold'n Copper Blue Print
SBIS/BIS USA & CAN Ch Qamari´s Rainbow Rider
Swedish & Norwegian Ch Xenopho Midnight Blue
Swedish Champion Kingsleah Footprints Of Smokey
Swedish Champion Khandhu Acrobatic Ace
Multi SBIS Aust, International & Nordic Ch, Norweigan Winner-88 Khandhu Smoke Screen
Swedish, Norwegian, Danish, Finnish, Nordic, Latvian, Baltic, Polish, German & VDH, Czech, International Champion Kingsleah Star of Asia
World Winner 2011, World Winner 2009, Multi SBIS New Zealand, Swedish, Danish, Norwegian, Nordic & International Champion Star´T Cutting Trax of Jhanzi
Grand New Zealand & Grand Australian CH Aviva T Cutting Edge
New Zealand Champion Lali Thuk Star of Jhanzi
Golddragon Fly So High
Spanish Champion Golddragon Taylor Smart
Spanish Champion Thais du Menuel Galopin