American, Swedish & Danish Champion
Kingsleah Million Dollar Baby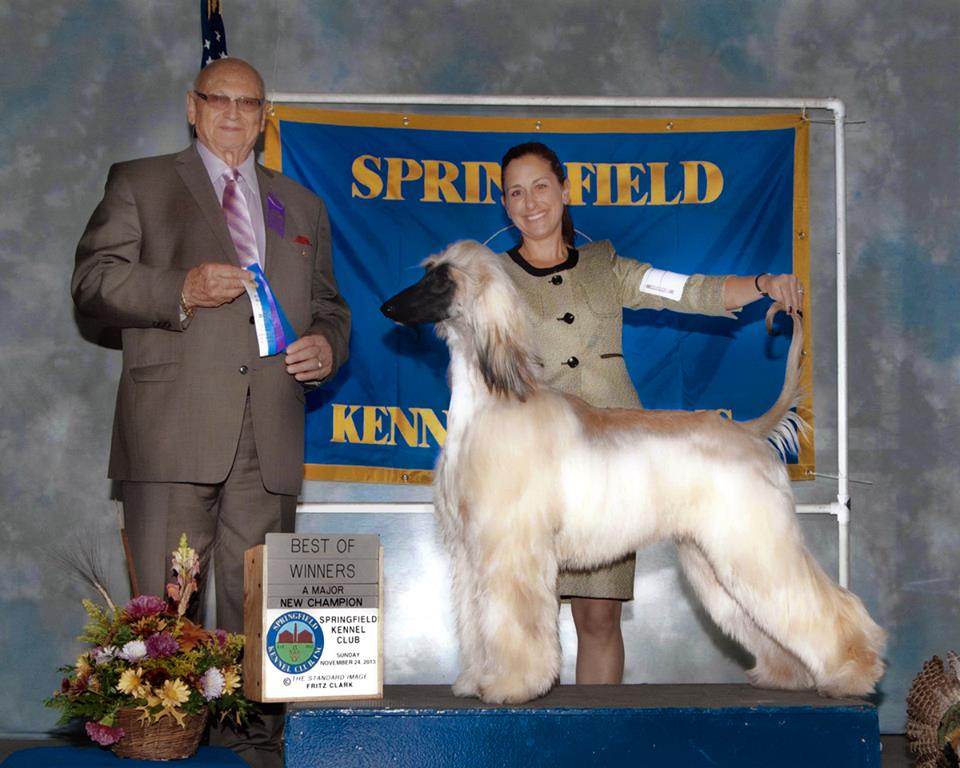 Alias: Reina
Sex: Bitch
After: Swedish Champion Khandhu Acrobatic Ace
Under: Golddragon Fly So High
Born: 2012-08-14
Breeder: Gunilla Holmgren, Kennel Kingsleah
Owner: Gunilla Holmgren
*Deceased*


We are extremely happy to have this exciting puppy by frozen semen, almost 20 years old, sired by our Australian Import 25 years ago and multi champion SBIS/BIS producer, Runner Up Top Afghan 1991 in Sweden, Ch Khandhu Acrobatic Ace "Sidney".
As far as I know Reina is the only living granddaughter to the Legendary and Top Winning Multi SBIS/BIS Ch Raushan Copa Cabana "Lola" in Australia!
We are very excited about her future. Reina will stay with Sharon Ferraro, NY, during her visit in America. Make us proud Reina - we are already very proud of you!
Reina goes Winners Bitch and gained her first point towards the American Championtitle.
Reina, only one year old, continues to win points and WB and BOS with handler Teri Tevlin and is well on her way to her AM title.
Reina won three Majors in a row and is now American Champion! November 2013. Thank you so very much Sharon Ferraro and Teri Tevlin for making this possible!
Reina returned to us in Sweden January 2014. She is definitely a Queen.
Reina finished the Swedish Championtitle on my birthday in September 2015.
Reina took a break from the shows and returned to the ring in Vejen, Denmark, June 2017 by winning the CAC, Danish Championtitle and 2 x CACIB.
Reina continue to win BOS with CACIB in Ransäter, Sweden, July 2017.
Reina is one CACIB shy from her International Championtitle, CIB.
Devastating news!
Late 2018 Reina started to feel unwell and April 3rd 2019 we had to let her go. Far too young, at only 6,5 years.
Pictures



















Pedigree
Swedish Champion Khandhu Acrobatic Ace
SBIS AUST Ch Pierhelo Cointreau
Multi SBIS AUST CH Kabiks Limelite Of Aries
Pierhelo Mopet Popette
Multi SBIS/BIS & AUST Ch Raushan Copa Cabana
Multi SBIS/BIS & AUST Ch Khandhu Laser Litefoot
AUCH Raushan Wanton Affair
Golddragon Fly So High
Spanish Champion Golddragon Taylor Smart
French, Spanish, Portuguese, Gibraltar, Luxemburg, Italian, International, Mexican, Las Americas and Caribian, Canadian & USA Ch, World Winner 1999 License To Thrill De Tchekana
Jahrog I Think You Got My Number
Spanish Champion Thais du Menuel Galopin
Ch Exxos Guess My Secret
Ch Marie France du Menuel Galopin