Junior Champion of Russia, Ukraine, Federation of Bosnia and Herzegovina, Bosnia and Herzegovina, Montenegro, Mediterranean and Balkan Countrie, Croatia. Russian & Ukranian CH
Kingsleah Jeanne d´Arc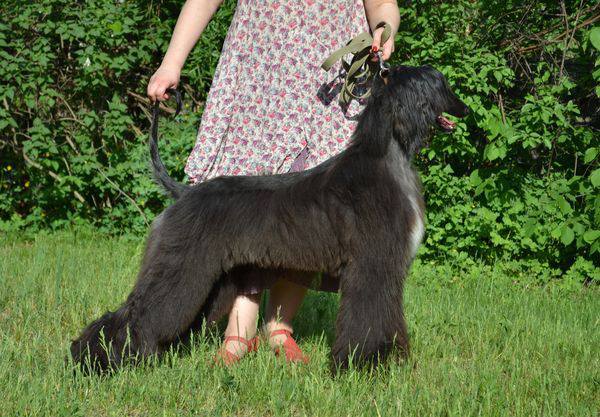 Alias: Teya
Sex: Bitch
After: World Winner 2011, World Winner 2009, Multi SBIS New Zealand, Swedish, Danish, Norwegian, Nordic & International Champion Star´T Cutting Trax of Jhanzi
Under: Kingsleah Paris by Night
Born: 2012-05-20
Breeder: Gunilla Holmgren, Kennel Kingsleah
Owner: Tatiana Protopopova, Russia
*Deceased*


Kingsleah Jeanne d´Arc had a great start on her show career in Russia. She won 3 JCAC consequently and finished by winning 2 JCAC a couple of days before she was one year old.
At the International show in Sumy, Ukraine, she won JCAC and BOB and finished the Junior Champion title of Ukraine.
Since then she achieved the Junior Champion titles as follows; Federation of Bosnia and Herzegovina JCH of Bosnia and Herzegovina, Montenegro, Mediterranean and the Balkan Countries, Croatia.
In May 2014 Teya finished her Russian and Ukranian Champion titles.
Unfortunately she crossed the Rainbow bridge too young.
Pictures












Pedigree
World Winner 2011, World Winner 2009, Multi SBIS New Zealand, Swedish, Danish, Norwegian, Nordic & International Champion Star´T Cutting Trax of Jhanzi
Grand New Zealand & Grand Australian CH Aviva T Cutting Edge
Grand Australian Champion Seistan´s Heart T´Beat
SBIS Multi BIS Australian CH Aviva Venezia
New Zealand Champion Lali Thuk Star of Jhanzi
World Champion Kingsleah Blue Star
New Zealand CH Summer Skies Of Jhanzi
Kingsleah Paris by Night
Kingsleah Made In France
Kingsleah Stairways To Heaven
New Waves De Darjeeling
Kingsleah Drama Queen
Swedish & Danish Champion Mr Sandman's Tell A Zcoop
Swed, Norw & Danish Ch, NordicWinner-00 Kingsleah Dancing Queen