American Champion & American Grand Champion
Kingsleah T´Charmer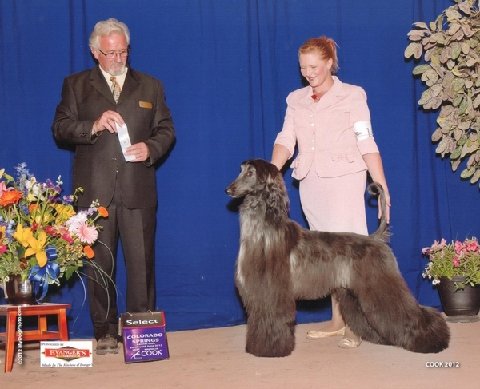 Alias: Keegan
Sex: Dog
After: World Winner 2011, World Winner 2009, Multi SBIS New Zealand, Swedish, Danish, Norwegian, Nordic & International Champion Star´T Cutting Trax of Jhanzi
Under: Kingsleah La Dolce Vita
Born: 2010-10-26
Breeder: Gunilla Holmgren, Kennel Kingsleah
Owner: Kirlyn Fouts & Lynne Krause, Colorado, USA

Keegan had a fabulous start on his show career at the tender age of 6 months.
Three times Winners Dog & Best of Winners and one Winners Dog, in Utah 5-8 May 2011. He achieved 6 points towards his American title!
Thank you judges Ms Denny Mounce, Mrs Pat Trotter, Mr Charles Trotter, Mrs Francine Schwartz and especially Keegans handler Erin!
Keegan won WD and his first BOB (over a Special) in Northern California 22 May, from Puppy class a little less than 7 months.
Keegan won Best of Winners at the Snake River Canyon Kennel Club of Idaho Dog Show, 14 June. He won a 3 point major, so he is just 5 points away from his American Championship.
Keegan went WD and a 5 point major at Billings, Montana under judge Ms Elizabeth Muthard, 21 June.
So at 7 months and 26 days old, Keegan is now an American Champion!
Thank you Erin for awesome handling of Keegan! Thank you judges for appreciating this very young Kid Sox kid.
Keegan gained his Grand Champion Award at 17 months of age!
Pictures










Pedigree
World Winner 2011, World Winner 2009, Multi SBIS New Zealand, Swedish, Danish, Norwegian, Nordic & International Champion Star´T Cutting Trax of Jhanzi
Grand New Zealand & Grand Australian CH Aviva T Cutting Edge
Grand Australian Champion Seistan´s Heart T´Beat
SBIS Multi BIS Australian CH Aviva Venezia
New Zealand Champion Lali Thuk Star of Jhanzi
World Champion Kingsleah Blue Star
New Zealand CH Summer Skies Of Jhanzi
Kingsleah La Dolce Vita
Kingsleah Stairways To Heaven
Quom Patouts On Bourbon
Swedish Champion Kingsleah Starlight
Kingsleah Drama Queen
Swedish & Danish Champion Mr Sandman's Tell A Zcoop
Swed, Norw & Danish Ch, NordicWinner-00 Kingsleah Dancing Queen