SBIS/BIS Italian, Norwegian, Swedish & International Champion
Maidum Blue Tuareg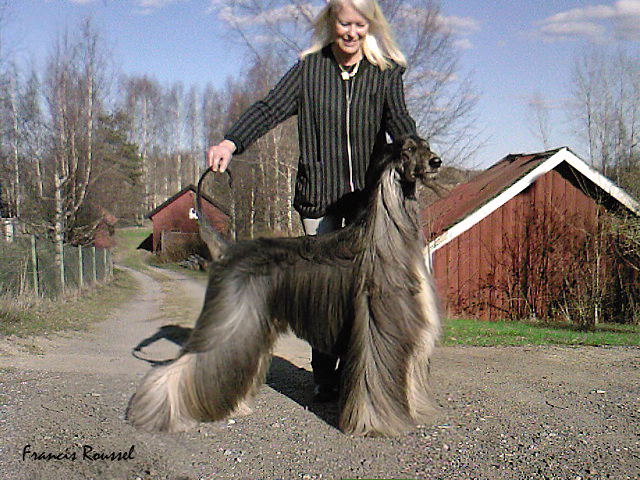 Alias: Tuareg
Sex: Dog
After: Am, Swedish, Norwegian, Slov & Int Ch Raffica's Smokin' Gun
Under: Italian Champion Maidum Zanzibar
Born: 2003-09-07
Breeder: Maidum kennel, Italy
Owner: Kho I Noor kennel, Italy

We were fortuned to have Tuareg here for a limited of time. He sired a lovely litter out of our very exotic Nastja, a Svinto granddaughter.
Tuareg won the Open class with exc in Västerås under judge Juokko Leiviskä, with the fabulous critique:
"Unbelievebly beautiful male with such a proud carriage and selfconfident outlook. Lovely head with very beautiful expression. Lovely body. Nice long hindlegs with low hocks. Lovely big feet. Lovely, typical for the breed, groundcovering movements."
CAC, Best Male 2 and the Norwegian Championtitle at the Sighthound Specialty in Hurdal, Norway, May 10th, under judge Vlasto Vojtek, Gandamak, Slovenia.
CAC, Swedish Championtitle, BOB and BIS at the Sighthound Specialty in Bosjökloster, May 24th, under judges Maria Theresa Fassio Durando, Italy and Birthe Larsen Rosvall, Sweden (BIS).
Tuareg is now back in Italy with his owners.
Pictures









Pedigree
Am, Swedish, Norwegian, Slov & Int Ch Raffica's Smokin' Gun
USA Ch Seistan's Makin' A Killin' Jc
USA Ch Jorogz' Heart Breaker
Atavi Seradrift
USA Ch Raffica Smoke Gets N' Yr Eyes
Yucatan Gran Maniere Stevmar
Raffica's State Of The Heart
Italian Champion Maidum Zanzibar
IT, FR & INT CH, WW-96, EURW-97, EURW-98 Sanallah´s Gerome
USCH Kefalari's Scenario
Champion Sanallah´s Pretty Woman
Morgane
Champion Cartoon du Haut Marais
Montecchio della Val d'Era Shiba