Gibraltar JCH, Portugues Champion
Kingsleah Creme de la Creme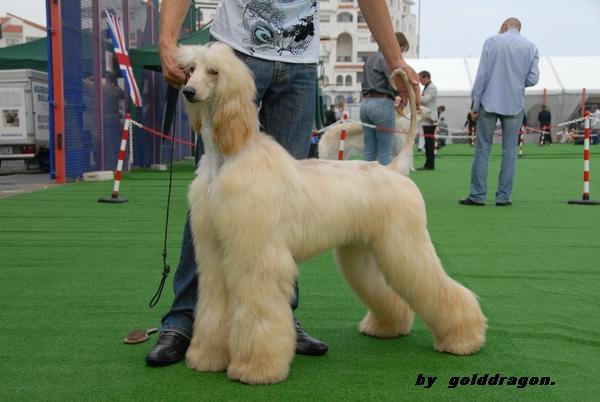 Alias: Coco
Sex: Bitch
After: World Champion Kingsleah Blue Star
Under: Risis du Domaine des Crepinettes
Born: 2007-09-05
Breeder: Gunilla Holmgren, Kennel Kingsleah
Owner: Mario Martinez Sanchez, Golddragon, Spain
*Deceased*


We wish Mario a bright future with this very pretty Svinto daughter Coco.
Coco did it on her first show, she won her class both days and achieved the title Gibraltar Junior Champion. One of the judges was Espen Engh.
Second time out, 17 months, Coco won CAC, CACIB, Best Bitch, BOB and Group 3rd under judge Angel Garach in Granada.
Third time out Coco won CAC, CACIB, Best Bitch, BOB & Group 1 under judge Carla Molinari in Sevilla, March 1st.
Thank you judges! CONGRATULATIONS Mario!
Coco finished her Portugues Championtitle October 24th under judge Diane Spavin, UK.
The 17th of March, we got the tragically news that Coco has left us all, far too young, she never woke up from a ceasarian, nor did her puppies still inside. Something went wrong. She had 15 puppies.
Coco left her newborns in care of her owner. Our deepest thoughts are with Mario and his brother Joaquin.
Why?
Pictures













Pedigree
World Champion Kingsleah Blue Star
International & Nordic Ch Gold'n Copper Blue Print
SBIS/BIS USA & CAN Ch Qamari´s Rainbow Rider
Swedish & Norwegian Ch Xenopho Midnight Blue
Swedish Champion Kingsleah Footprints Of Smokey
Swedish Champion Khandhu Acrobatic Ace
Multi SBIS Aust, International & Nordic Ch, Norweigan Winner-88 Khandhu Smoke Screen
Risis du Domaine des Crepinettes
Kingsleah Stairways To Heaven
Quom Patouts On Bourbon
Swedish Champion Kingsleah Starlight
Pretty-Woman De Darjeeling
Am, Swedish, Norwegian, Slov & Int Ch Raffica's Smokin' Gun
East Of Eden De Tchekana