Swiss & Austrian JChampion, J Winner Bavaria-2008, Landesjugendsieger Nord-Mecklenburg-Vorpommern 2008, Club Coursing Ch Italy 2009, Austrian Ch, ÖKWZR-Clubsieger 2011
Kingsleah Sanadiva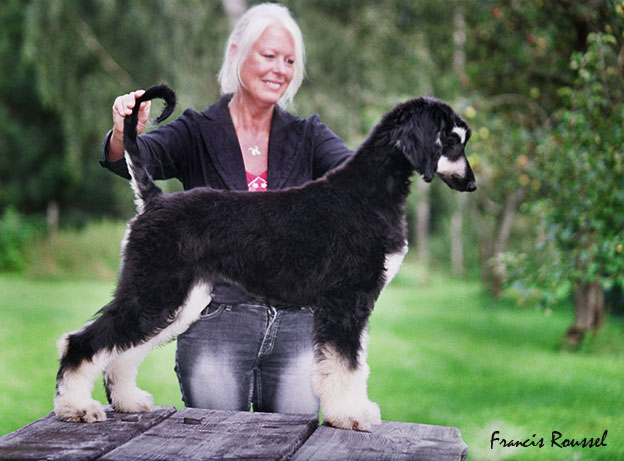 Alias: Sanadiva
Sex: Bitch
After: Kingsleah Euro Star
Under: Raffica's D. La Diva
Born: 2007-04-20
Breeder: Gunilla Holmgren, Kennel Kingsleah
Owner: Sabine Millert, Austria
*Deceased*


We wish Sabine & Jörg Millert the very best with Sanadiva.
Sanadiva had a GREAT start on her show career by winning her class with V1, "Junior Winner Bavaria-2008" (Jugendsieger Bayern) in Munich, Germany, March 2nd, under judge Jean Brixhe, Belgium.
Two weeks after the Bavarian title Sanadiva won her class again, in Germany. BOB-Junior and the title State Junior Winner (Landesjugendsieger Nord-Mecklenburg-Vorpommern 2008) under judge Mrs Linda Scanlon, USA.
Sanadiva won the JCAC, JBOB and All Breeds Junior BIS 2 in St Gallen, Switzerland May 17th, under judge Tomas Jakkel, Hungary. Following day 2xJCAC, Junior Winner and JBOB, Swiss Junior champion! under judge Mr Pichard.
Sanadiva qualified for Crufts 2009.
Sanadiva was the JBIS-2 and Best Bitch & BOS at the Sighthound Specialty in Salzburg, Austria, June 1st 2008 under judge Pauline Hewitt, Australia.
Sanadiva won JBIS-2 and BOB, BIS-2 from Juniorclass! under judge Wilfriede Schwerm-Hahne, Germany and Mr Erwin Deutscher, Austria, at the National show in Innsbruck, Austria 23rd of August. Sanadiva finished her Austrian Junior Championtitle.
Sanadiva finished the year 2008 with Top Youngster & 3rd Top Bitch in Austria.
Sanadiva started the year 2009, 10 and 11 of January, Alpencup 2009, Innsbruck, Austria by winning the CAC on Saturday under judge D Getzinger (A). On Sunday the CAC and CACIB under Elsbeth Clerc (CH).
Sanadiva gained her Austrian Championtitle with style.
Pictures





















Pedigree
Kingsleah Euro Star
World Champion Kingsleah Blue Star
International & Nordic Ch Gold'n Copper Blue Print
Swedish Champion Kingsleah Footprints Of Smokey
Pretty-Woman De Darjeeling
Am, Swedish, Norwegian, Slov & Int Ch Raffica's Smokin' Gun
East Of Eden De Tchekana
Raffica's D. La Diva
Am & Jap Ch Raffica's Lady Killer
USA Ch Jorogz' Heart Breaker
USA Ch Raffica Smoke Gets N' Yr Eyes
Am Ch Raffica's Loud N'Clear Renwick
USCH Raffica's It Takes A Thief
USCH Renwick's Winning Colors