USA & CAN, International, Korean Grand Ch, Multi BIS/SBIS
Japonica´s Barrel Of A Gun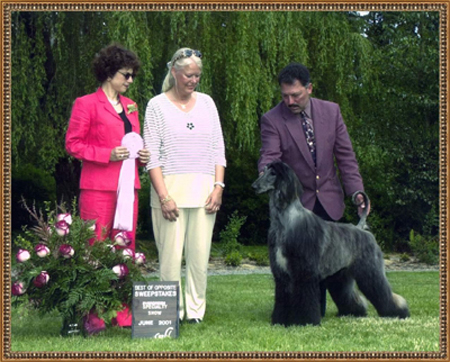 Alias: BluE
Sex: Dog
After: Am, Swedish, Norwegian, Slov & Int Ch Raffica's Smokin' Gun
Under: Swedish Champion Kingsleah Stardust
Born: 2000-05-17
Breeder: Anette Fasth
Owner: John Kim, Korea
*Deceased*


BluE was co-bred and owned by Kingsleah when he was exported to Raffica, USA, early 2001, where he finished as American and Canadian champion. Thank you Sue and Gary Games for taking so well care of BluE!
BluE was co-owned with Raffica until he was sold to John Kim in Korea where he quickly achieved his International & Korean Grand championtitle.
BluE went to China for two of the largest shows, CPC Beijing All breed show and CKU FCI CACIB Beijing show.
He won BISs in both shows.
BluE is the first afghan ever to win a BIS in an all breed show in the history of conformation sports in China.
Before BluE left Korea for Japan he won another BIS under Agnes Gamani, Israel and a RBIS under James Reynolds, Canada.
BluE´s dam Ch Kingsleah Stardust comes from the very famous Star-litter together with Ch K. Starlight and World Champion K. Blue Star "Svinto".
BluE is a brother to Grace (Japonica´s Black Lotus).
BluE was admired, loved and lived until he was almost 13 years old.
Pictures













Pedigree
Am, Swedish, Norwegian, Slov & Int Ch Raffica's Smokin' Gun
USA Ch Seistan's Makin' A Killin' Jc
USA Ch Jorogz' Heart Breaker
Atavi Seradrift
USA Ch Raffica Smoke Gets N' Yr Eyes
Yucatan Gran Maniere Stevmar
Raffica's State Of The Heart
Swedish Champion Kingsleah Stardust
International & Nordic Ch Gold'n Copper Blue Print
SBIS/BIS USA & CAN Ch Qamari´s Rainbow Rider
Swedish & Norwegian Ch Xenopho Midnight Blue
Swedish Champion Kingsleah Footprints Of Smokey
Swedish Champion Khandhu Acrobatic Ace
Multi SBIS Aust, International & Nordic Ch, Norweigan Winner-88 Khandhu Smoke Screen