Swedish Champion
Kingsleah Estee Lauder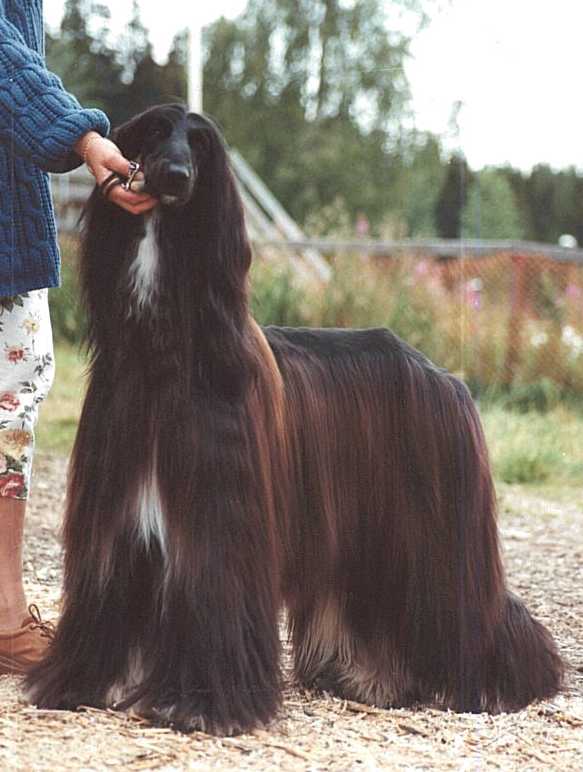 Alias: Estee
Sex: Bitch
After: Swedish Champion Khandhu Acrobatic Ace
Under: Swedish Champion Khaos' Foxy Lady Of Kingsleah
Born: 1990-09-20
Breeder: Gunilla Holmgren, Kennel Kingsleah
Owner: Gunilla Holmgren
*Deceased*


Estee was a Multi BIS/SBIS Veteran Winner.
Top Afghan Veteran Bitch in Sweden 1999 and 2001.
Best Head and Expression at the Specialty in Bosjokloster.
BOS Veteran at the prestigious Skokloster/Tammsvik Specialty and on top of that Best Bitch-4 at the respected age of 11 years! She got better and better by age.
Estee produced only one puppy "Evert" Kingsleah True Love, by Ch Kingsleah Pride Of The Ritz "Sam".
Estee was a very special lady and she lived with us for 13 years.
Pictures



Pedigree
Swedish Champion Khandhu Acrobatic Ace
SBIS AUST Ch Pierhelo Cointreau
Multi SBIS AUST CH Kabiks Limelite Of Aries
Pierhelo Mopet Popette
Multi SBIS/BIS & AUST Ch Raushan Copa Cabana
Multi SBIS/BIS & AUST Ch Khandhu Laser Litefoot
AUCH Raushan Wanton Affair
Swedish Champion Khaos' Foxy Lady Of Kingsleah
International & Nordic Champion Abanda-Azul
Int & Nord Ch El Khyrias Possible Winner
S Ch Easy-Rider
Swedish Champion Star-Line Simuna
Nuch, Such Vagabond
Oskani's Darya