AM CH
Pahlavi Puttin'on The Ritz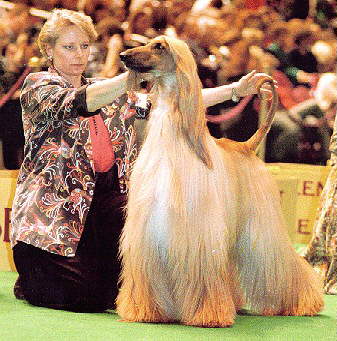 Alias: Taco
Sex: Dog
After: Shirkden Shazam
Under: Alarickhan's Jehada Pahlavi
Born: 1983-09-10
Breeder: Karen Wagner, Pahlavi, USA
Owner: Karen Wagner, USA
*Deceased*


The legendary TACO, Multi SBIS/BIS USA CH Pahlavi Puttin´On The Ritz, the sire of Swedish Champion Kingsleah Pride Of The Ritz as well as the grandsire of our current litter.
Taco is the Top Speciality Winner of all-time and the Nr 1 all time sire in the US.
Taco was the Nr 1 sire in Canada in 1989 and 1994.
Taco was known as "the world's most famous Afghan Hound".
Pictures



Pedigree
Shirkden Shazam
USA & CAN CH Zuvenda Razcym
USCH Zuvenda Renegade Of Esfahan
Shirkden's Libra Of Ashan
Alarickhan's Jehada Pahlavi
Mecca's Falstaff
Mecca's Blue Silks Karu
Mecca's Turandot Of Abashagh
GBCH Khalife Cricket V A Larickhan